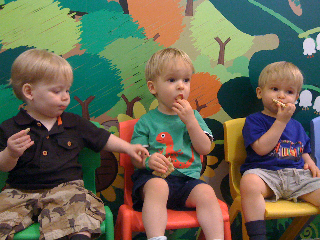 I freakin' love
Kiddy Village
. It's in Taikoo, so it's a little way away - about half an hour by MTR. It just opened in June or July 2011 so it's all sparkling clean. They have a good area for little kids (including a playhouse - the boys like to open and close the wall, rather than just the door) as well as a fairly large soft play area. There's a trampoline, a couple of slides that swoosh down into a big deep ball pit, a room full of balloons, and loads of obstacles and swinging things and little cars to ride in. The boys love it too, and it's only $70, which is a bargain compared to Wise Kids' $120, especially when you are taking two kids....So that's our destination of choice these days, I just wish I had found out about it earlier in the summer.
We're still going to
My Kiddy Gym
in Causeway Bay. We didn't go one week, as we were in Phuket, but going again today actually reminded me of how good it makes
me
feel, as well as the boys. They are generally (touch wood) well behaved, happy and co-operative, and I am always so enormously proud of them. Even if there's something they don't want to do, they are usually ok about it, as long as they're not forced, they're relatively quiet while they wait. We have heard quite a few complaints about Mr Reggie unfortunately - lots of mums (and helpers, judging from what Vergenia has heard in Tagalog) feel that it is not appropriate for him to discipline children. Firstly, it's not a school, it's supposed to be fun. Secondly, they are often only 12-18 months old! they just don't understand. Thirdly and perhaps most importantly, I don't think it's ok for someone to discipline your kids unless you know what they are doing and agree with their approach. Most of the time the carers at Kiddy Gym are helpers, not parents, who may not have the confidence to object to the disciplining....that's why I always go with V and the boys, I want to be there if it all kicks off!